It all started on Instagram when I came across a photo that Santalum posted of one of their natural vegtan boots. Naturally, the first thing I thought of was how great they'd look in indigo; which is usually the first thing I think of when I see vegtan or lightly colored shoes or garments.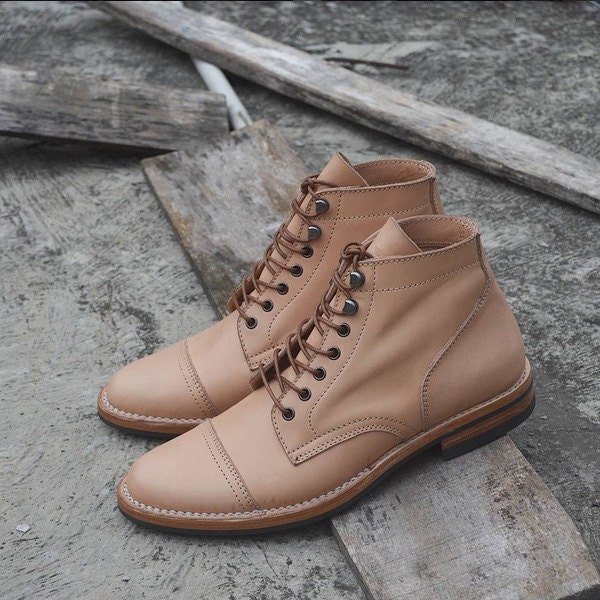 I immediately shot them a message introducing myself, and my interest in dyeing the boots indigo. I gave them a brief history of my work, and to my delight they responded that they had actually been interested in doing an indigo boot, so they were very happy to hear from me.
The steps were simple, I drew an outline of my foot on a piece of paper, and measured the dimensions per a diagram they sent me. Fast forward about 6 weeks later, and I had a beautiful specimen in my hands. I couldn't wait, I think I dyed them the very first day that I received them.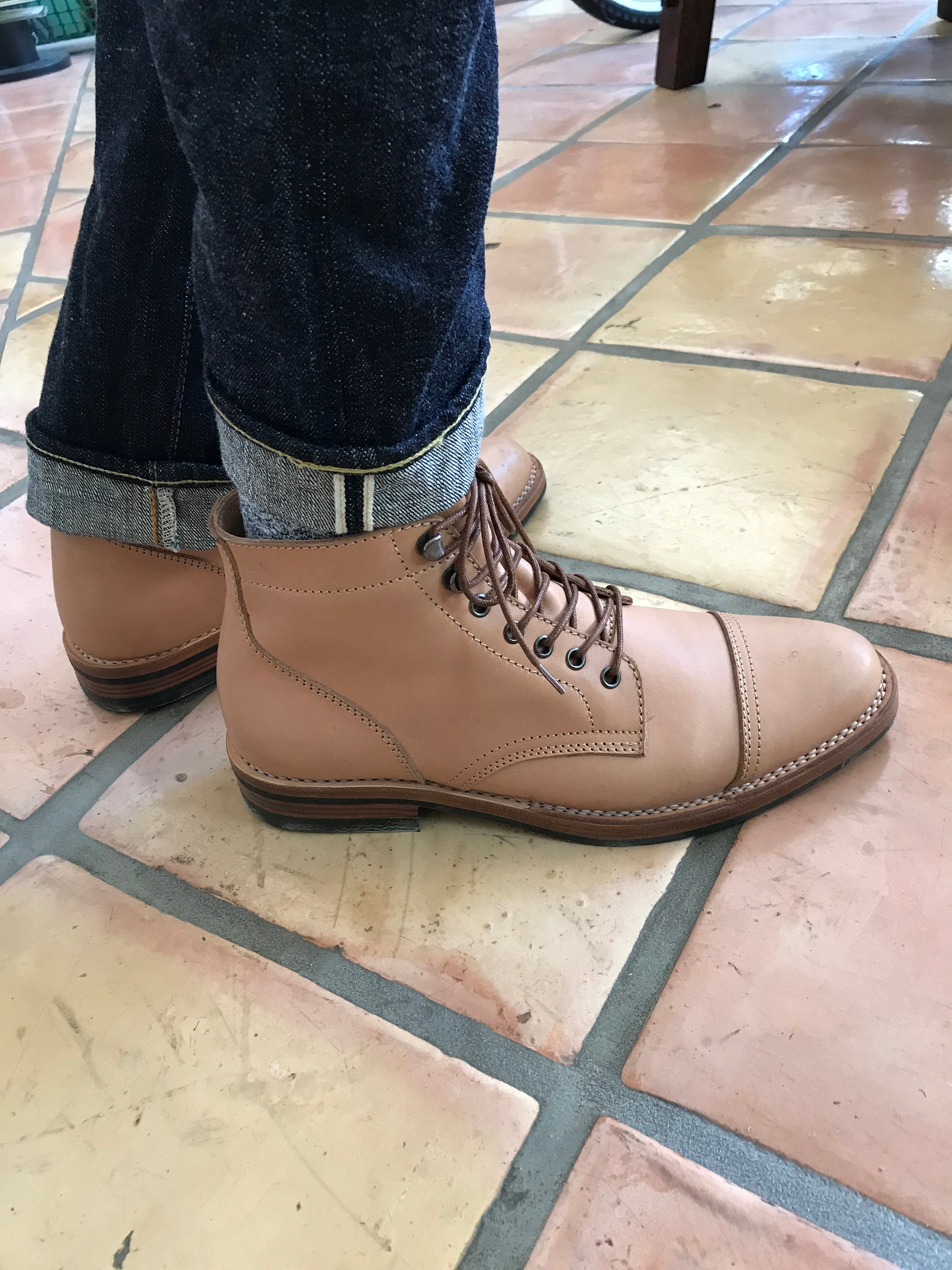 When dyeing anything indigo, it's crucial to test the vat and make sure the color it's producing is up to par. It's even more crucial when you're dealing with a pair of boots worth several hundred dollars. Luckily, the vat on that particular day was in rare form.
I waxed the outsole to keep them brown, giving the boot a more professional touch and a nice contrast, opposed to letting them dye indigo as well, which is more typical of an overdye situation.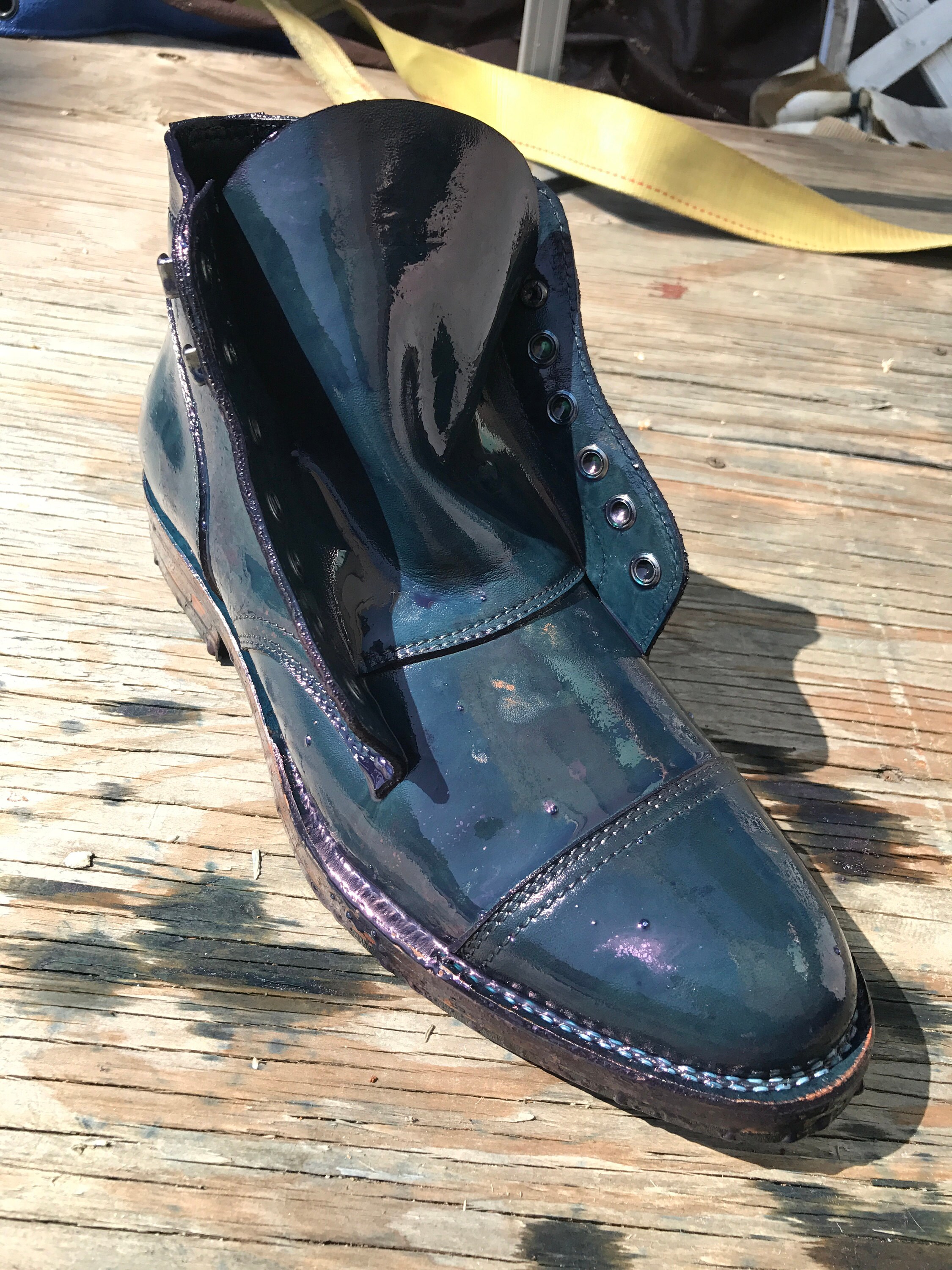 When the boot is first pulled out, there are bits of indigo flower that were left on the surface of the vat that cling to the shoe, this is no bother, I simply hose them off with a gentle stream.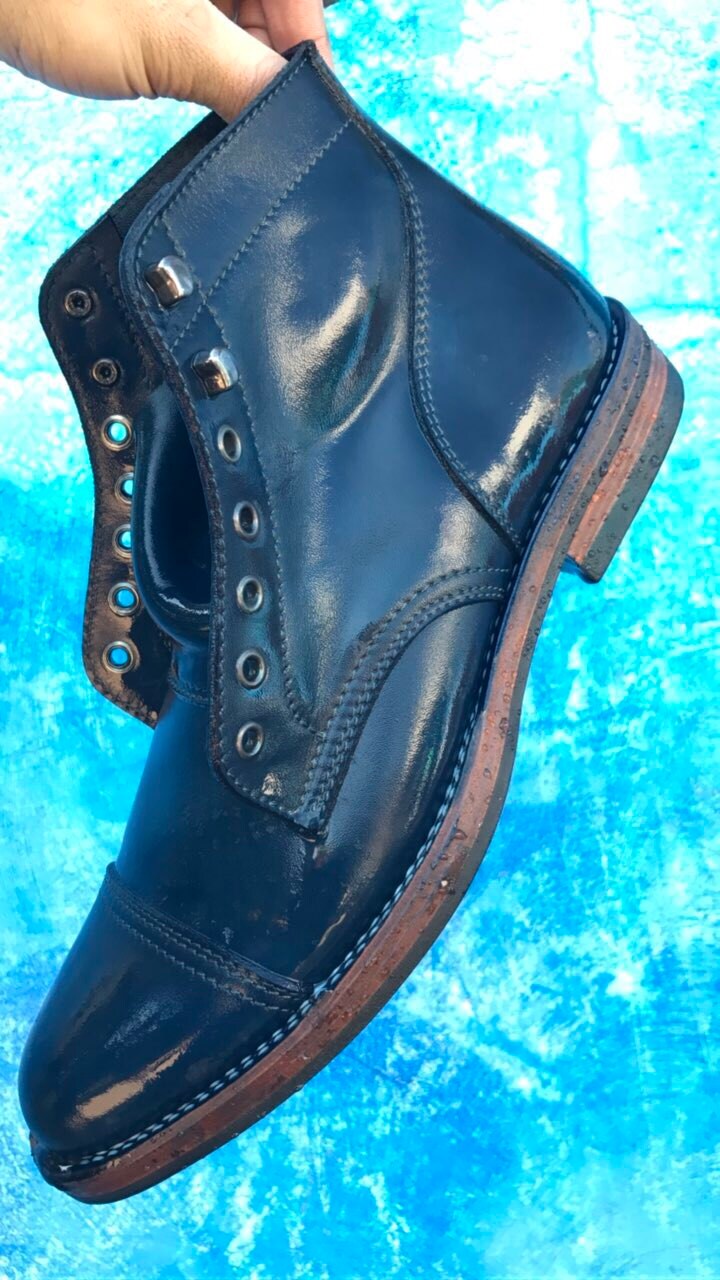 I give the boot several dips to ensure even coverage and a rich indigo hue. It can be difficult to judge the final product when it's wet, because even after one dip they may appear to be very dark, but once they dry it would be another story completely. So in the end I gave these 3-4 dips total. You can see how the sole is repelling the dye because of the wax I applied.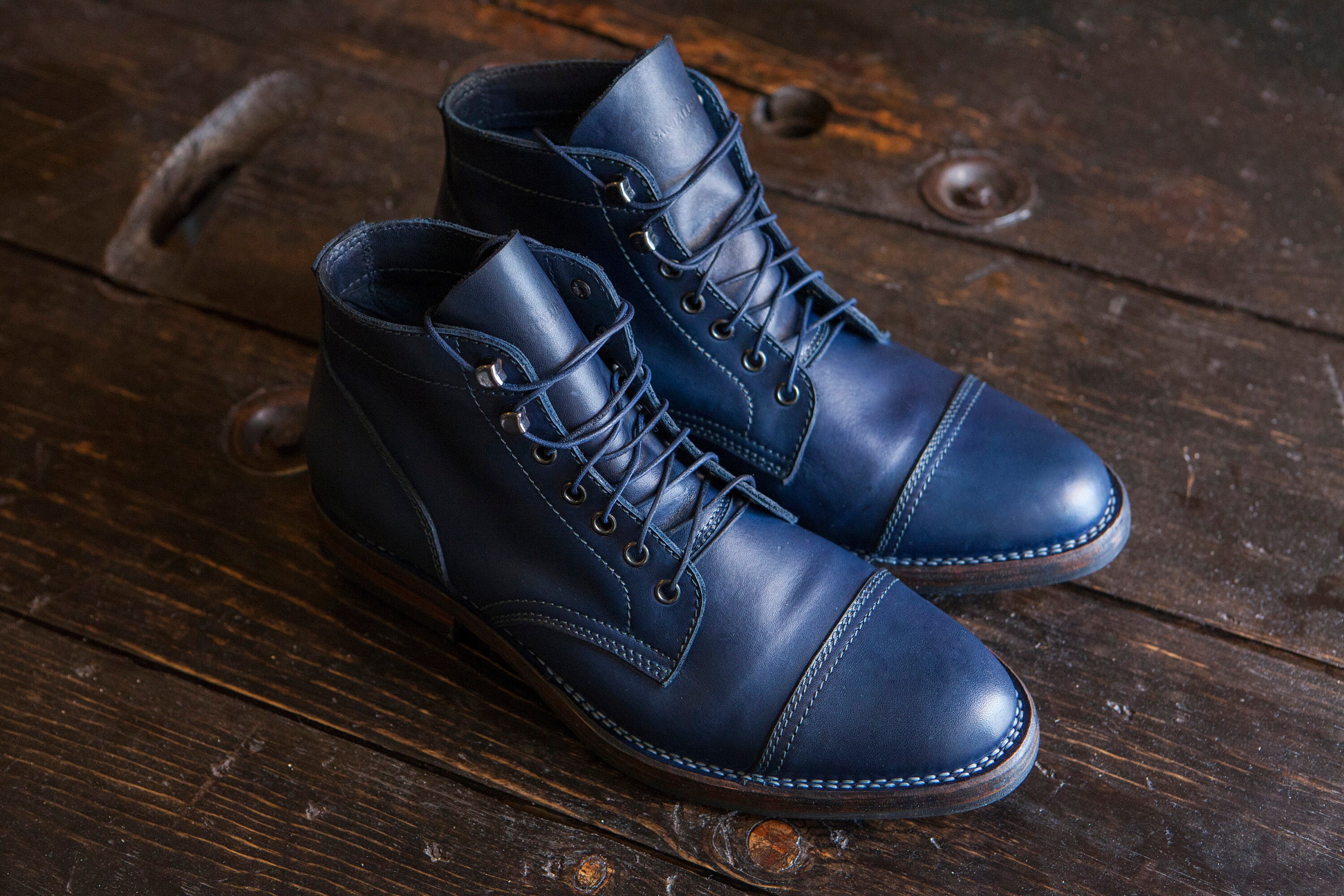 I played around with indigo leather laces, I only had a thin gauge cord to play with, they looked pretty good, but obviously the thickness was an issue.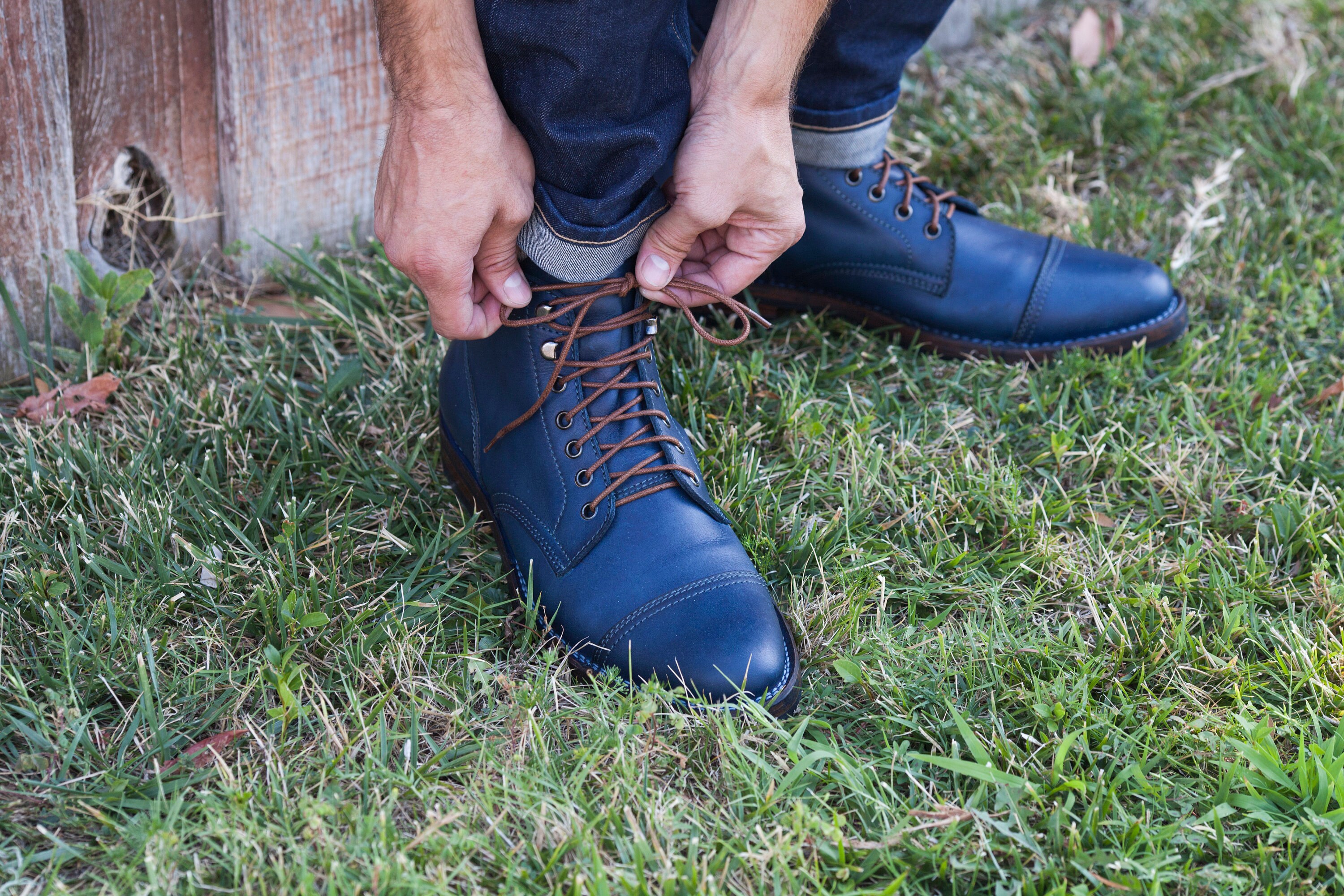 Here they are with the brown round braided lace that Santalum included with the boot. They provide a nice contrast and compliment the indigo nicely.
Now that we knew how great the boots looked in indigo, Santalum expressed interest in bringing these to market. I was thrilled about this, and even though it started out just as an experiment, I had hopes for more. 
We started talking about the final production model, and thus version 2 was born. I wanted to change the hardware to solid brass; indigo and brass compliment each other so perfectly, it was a no brainer for me. We also decided on black stitching for the upper, this way the stitching will almost disappear  into the indigo. I left the outsole stitching white to create a contrasting separation between the indigo upper and brown outsole.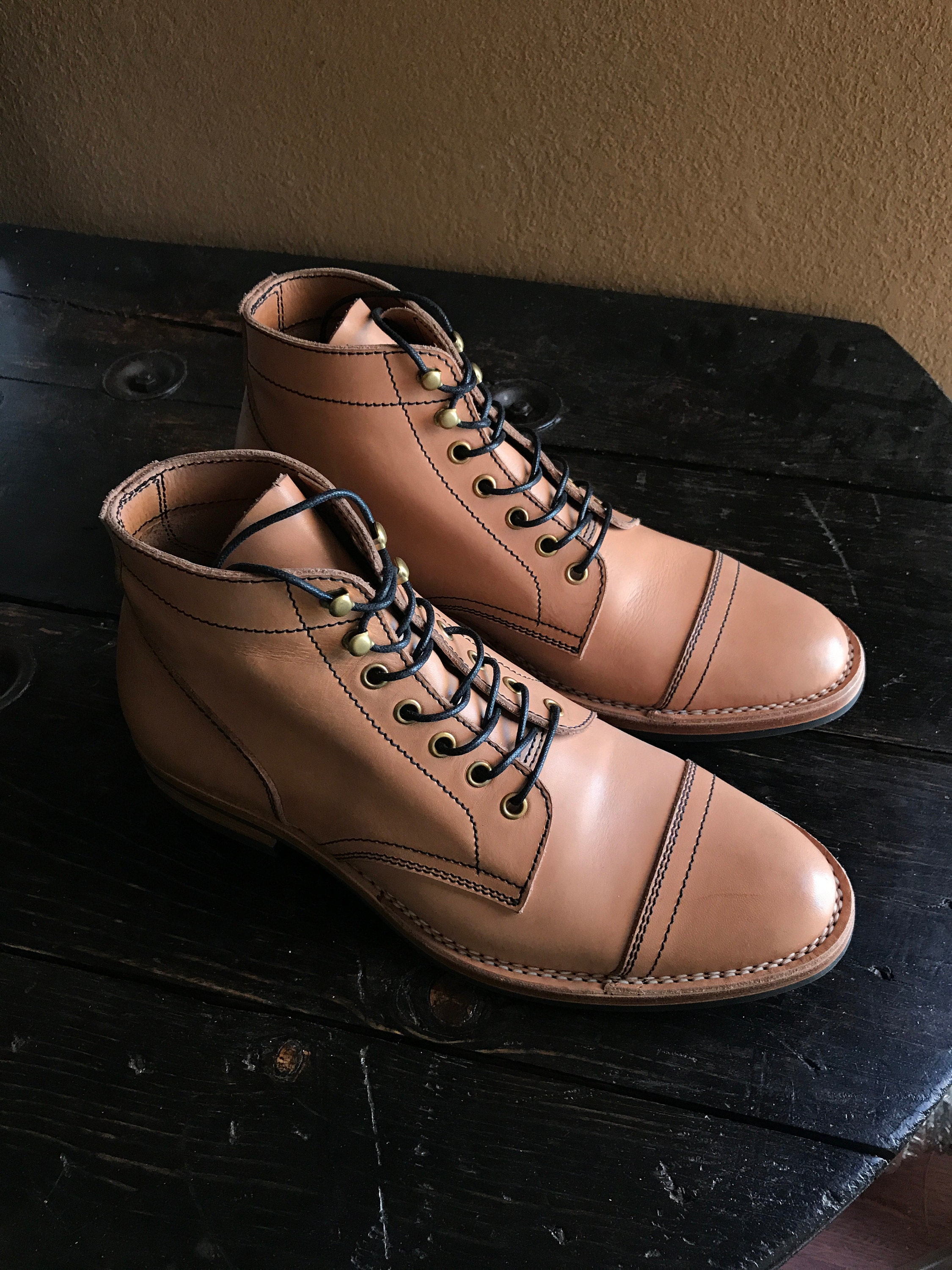 The new model was even more beautiful than the last. I really loved them right out the gate, but I knew the minor changes would stand out even more when the boots were dyed.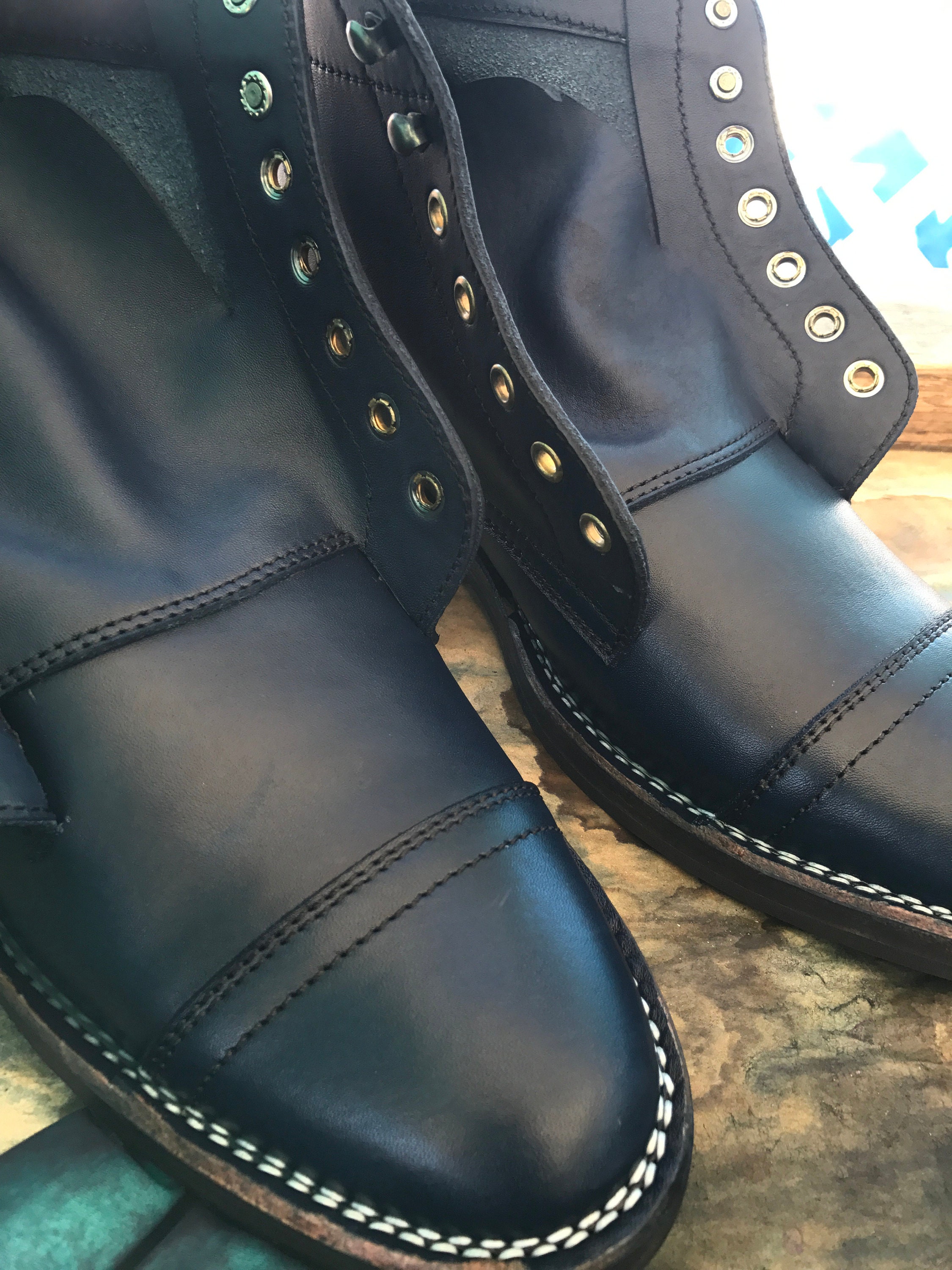 See how the white stitching stays white? That's because it's a synthetic thread. Only natural fibers can be dyed indigo, but a natural fiber thread like linen or cotton just won't hold up in the end like a nylon thread will.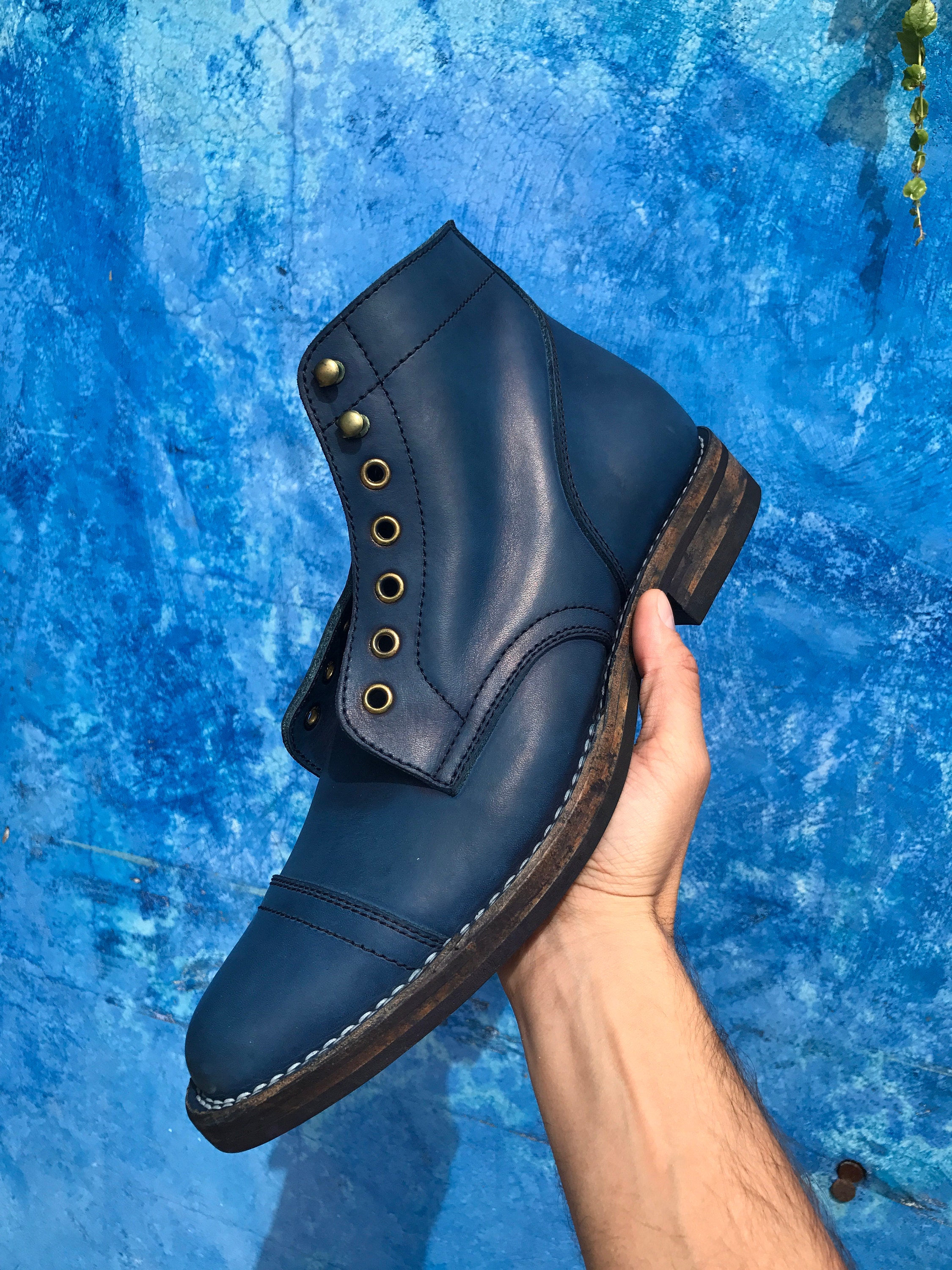 Here they are nearly fully dried but before oiling and cleaning up the soles. Even though I waxed the outsole, they still need to be wiped and scrubbed clean. I also apply a mixture of oils and waxes to the leather upper to rehydrate it after the bath. Contrary to what you might think, water actually makes leather dry- it extracts the oil in the leather so when it dries it is much stiffer than before.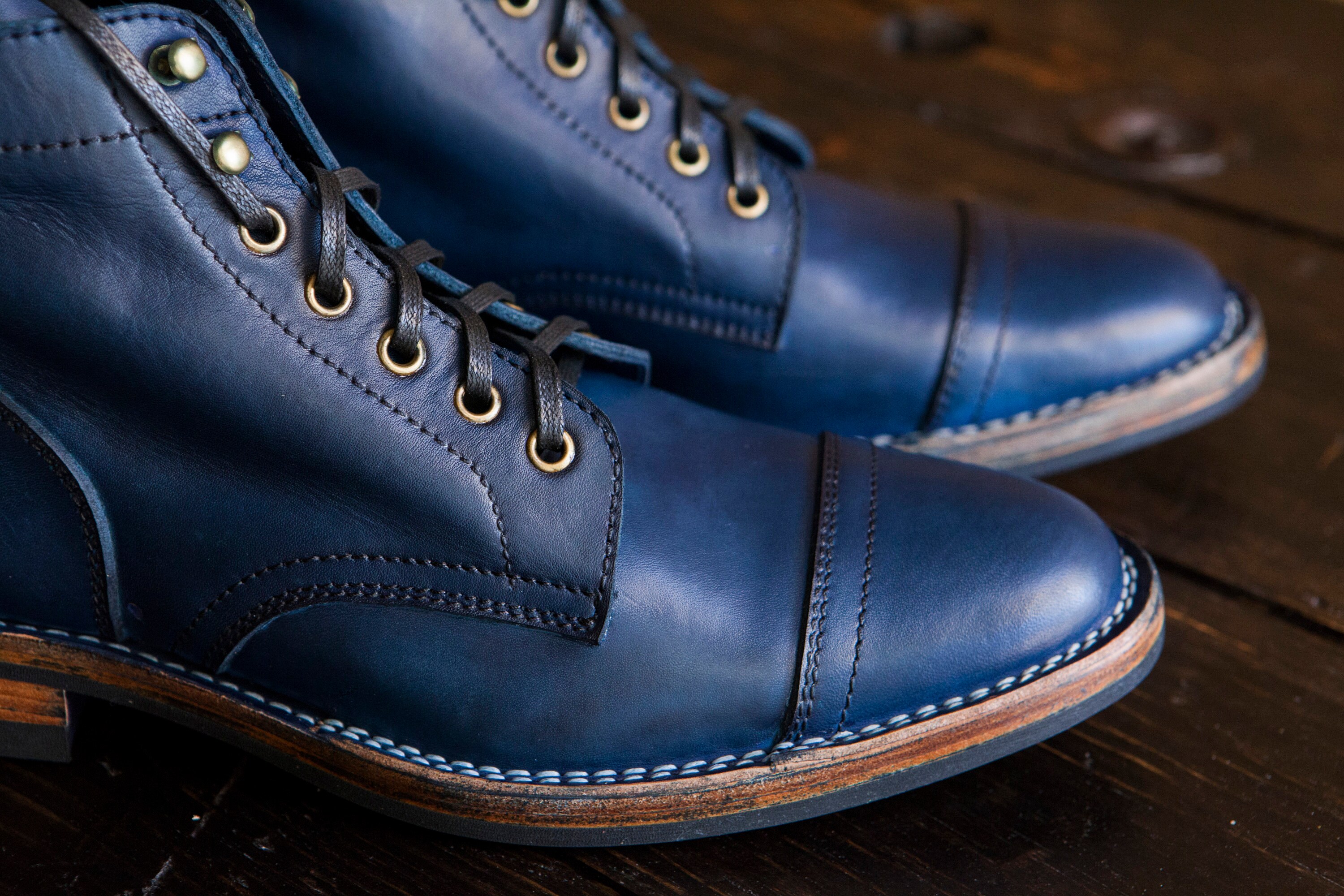 Now you can see how the brass hardware and black upper thread have paid off. The brass just pops off of the boot, while the black thread hangs out in the background with subtle detail.
I've chosen the black flat laces on this pair because it works well with the stitching, and it allows the brass to show through with vigor. While the same brown laces from version 1 would look fine with these, they would take the spotlight off of the brass hardware.
These boots are handmade from start to finish, with special care given all along the way to ensure a high end statement boot that are sure to stand out amongst the rest of the boots in your collection.
Preorder coming soon, stay tuned!
Now enjoy some pictures..
Comparison of version 1 on the left, and version 2 on the right.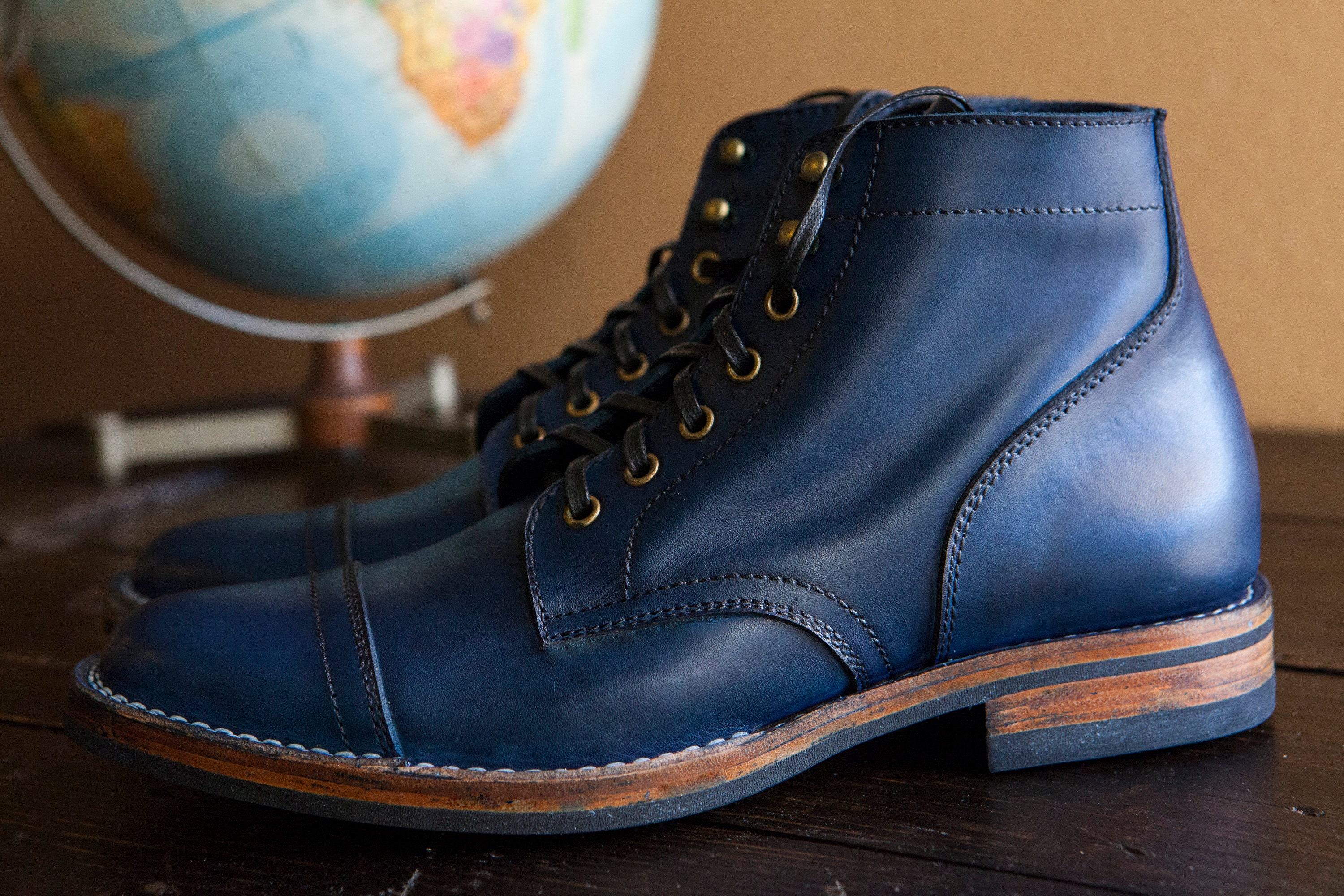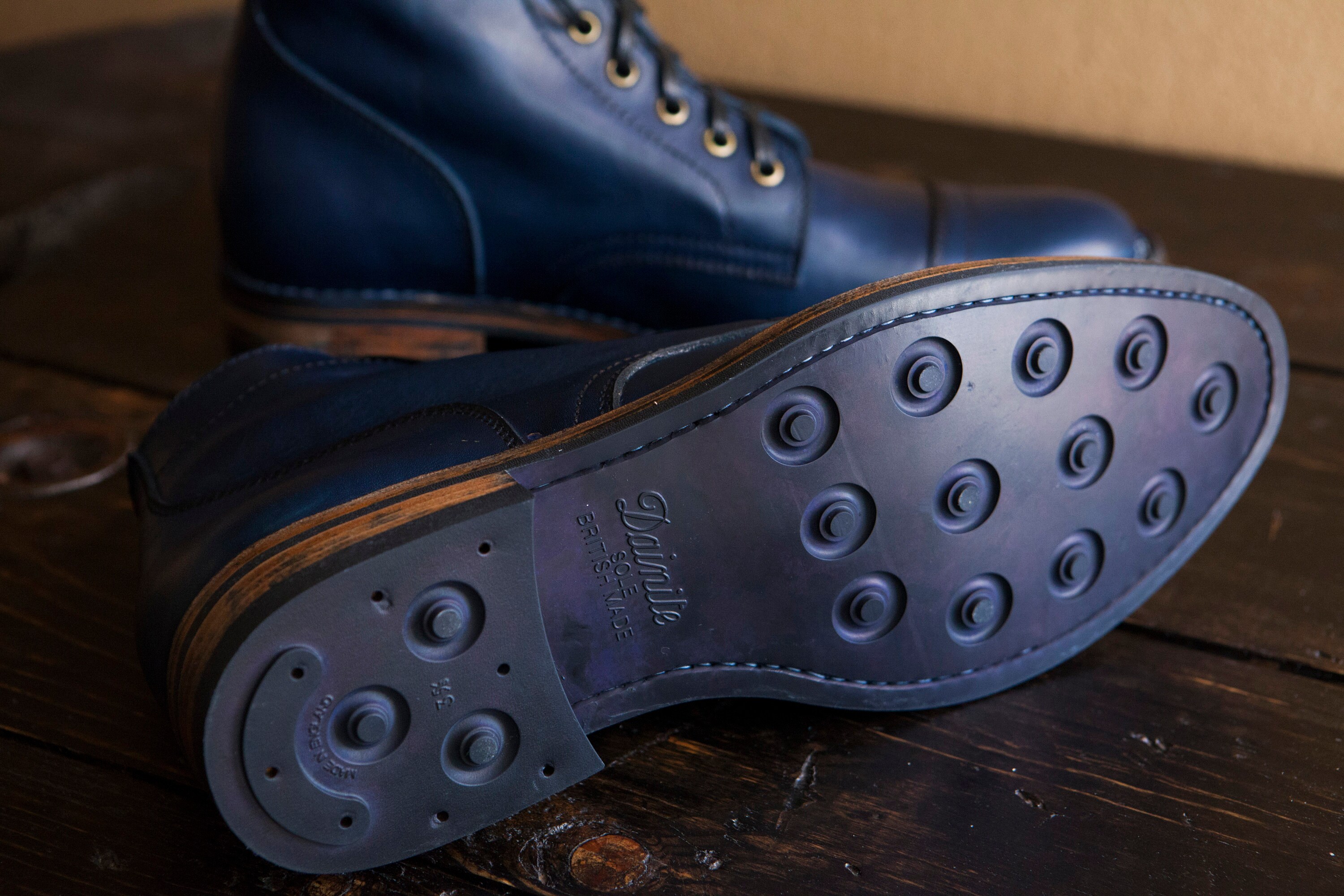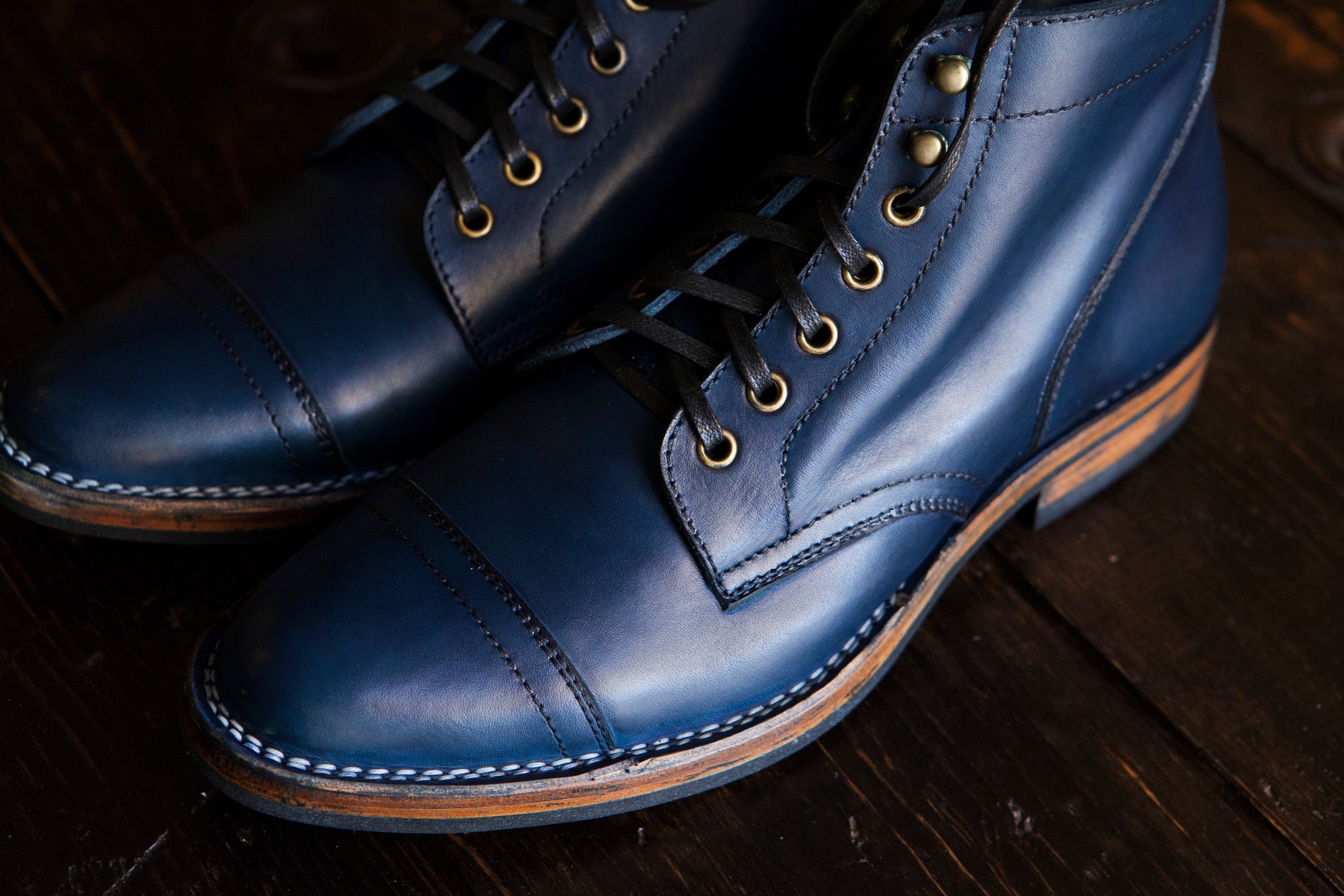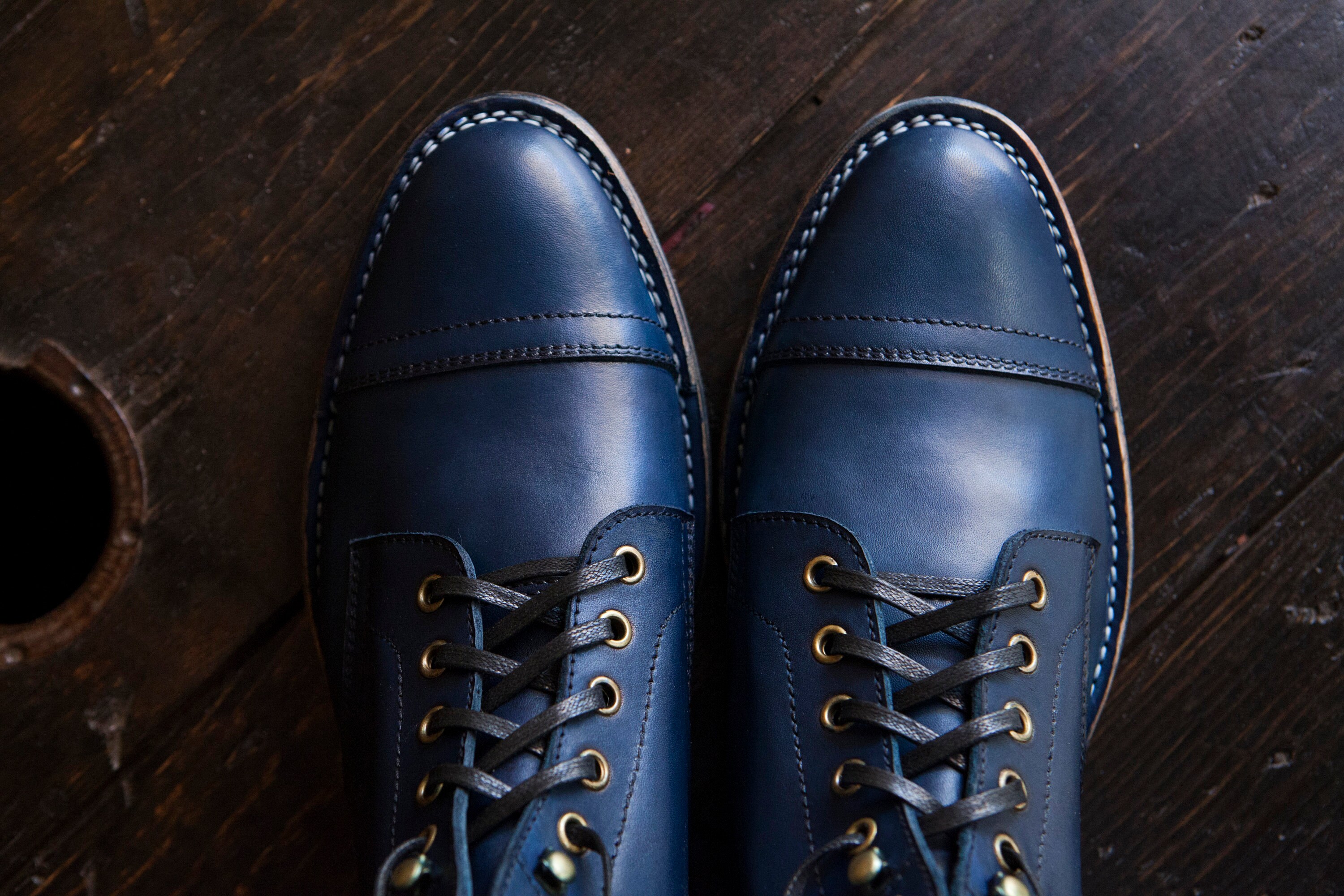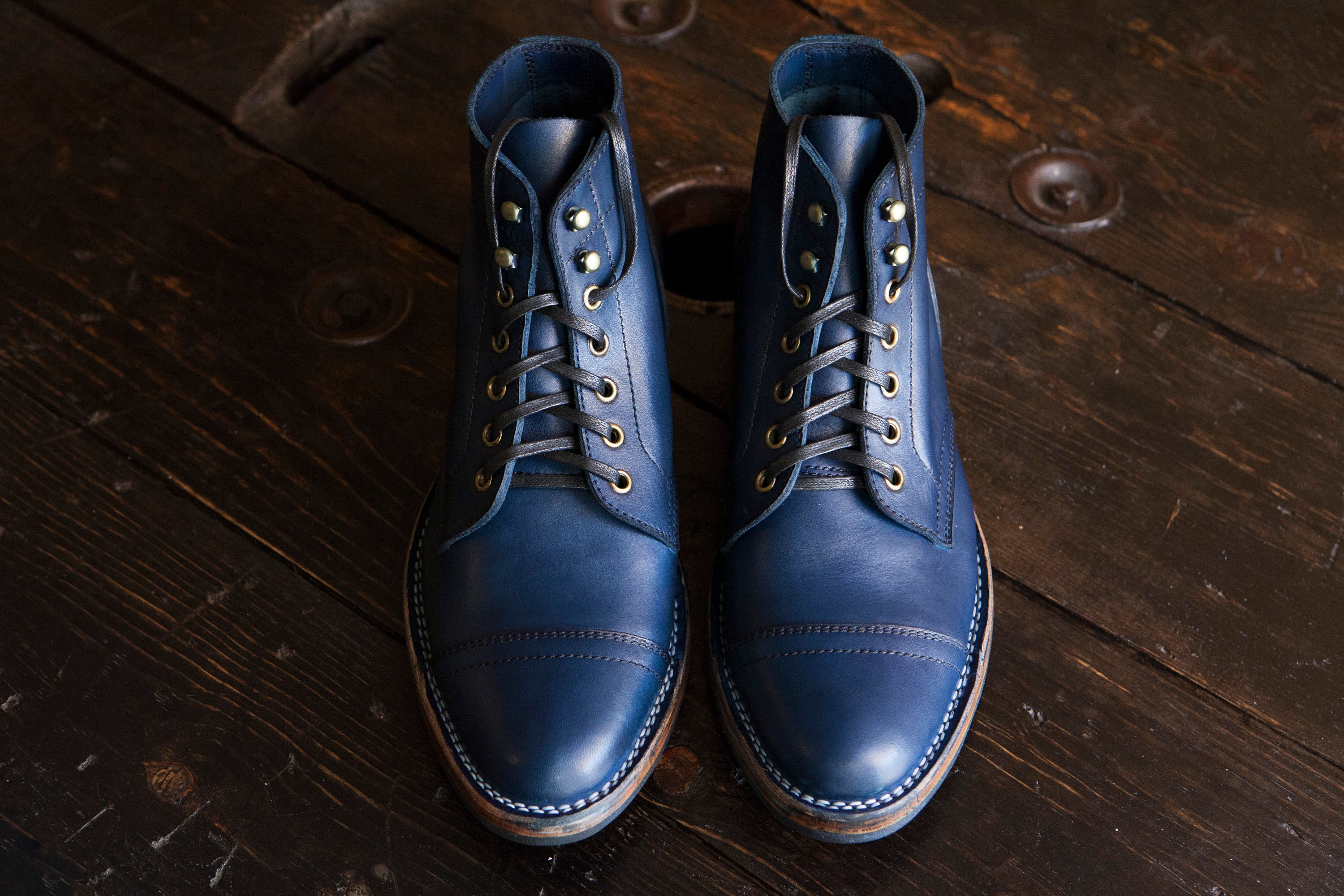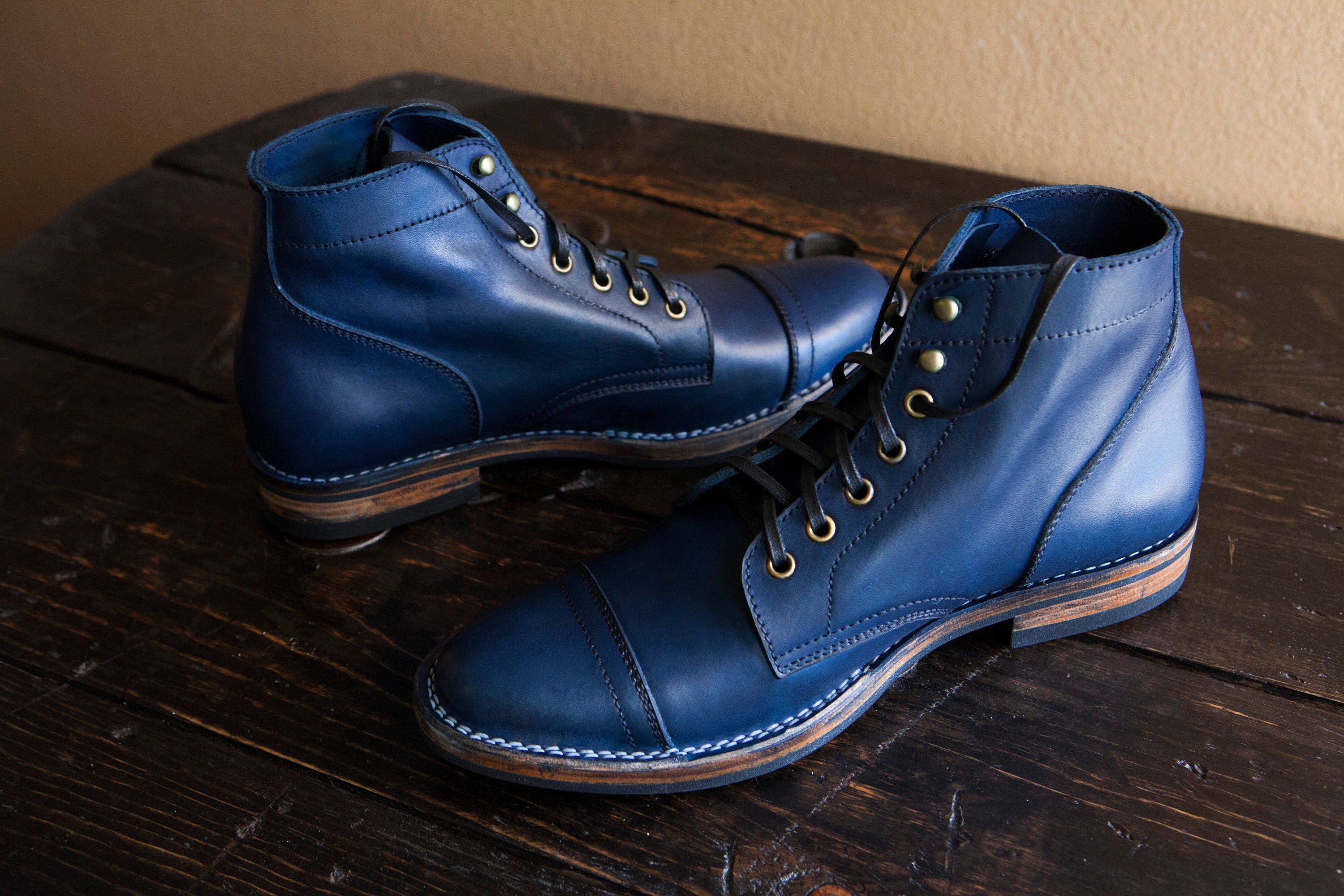 EDIT! The boots are now available for Pre-Order from today through October 15th. 
 https://www.pigeontreecrafting.com/listing/548051892/santalum-x-pigeon-tree-crafting-indigo